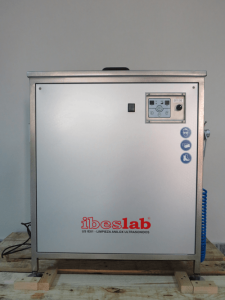 Machine  US IE02 Ibeslab
Ultrasonic cleaning of anilox
For the automatic cleaning of the dry ink that accumulates inside the cylinder cells, by means of a "cavitation" process in combination with the Ibeslab QS cleaning solution. With a rotation system that allows a partial immersion, so that the axles and gears of the cylinder are isolated. They are easy to use equipment and in a few minutes allow the recovery of the initial volume of the anilox. They are manufactured in different sizes and quantities, adapting to the needs of the client.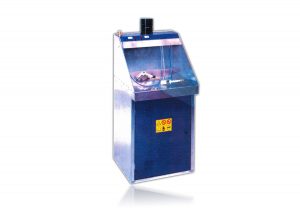 Washing sink 
For manual washing of tools: ink buckets, print cylinders, screen for printing screens, doctor blades and other printing elements. By means of a closed circuit, the cleaner is driven through a brush allowing the operator a comfortable cleaning of the element. Provided with an air blow gun and a steam outlet.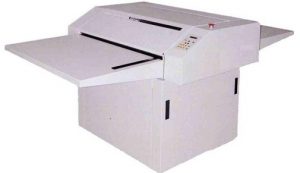 Plate cleaning
Automatic ink cleaning equipment on flexo and typographer printing plates, equipped with a conveyor belt. In a first stage, by means of the action of the special cleaners Ibeslab ID produces a smooth brushing that removes the ink from the photopolymer, in a second drying stage, by blowing air the evaporation of the cleaner is helped leaving the plate ready for storage.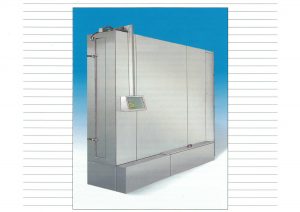 Equipment for washing and recovering screen for printing screens
For the automatic washing and recovery of screen for printing screens, by means of a complete system of spray nozzles, Ibeslab ID cleaners (harmless to the emulsion and the frame adhesive, with a flash point greater than 42º) diluting and drag the waste of the ink the fabric and in the screen frame, with a system of waste ink decantation and with possibilities to couple the distillate solvent equipment.
Contact us
If you want us to contact you or have any questions we will be happy to assist you