Engraving narrow band Anilox for Flexography and Offset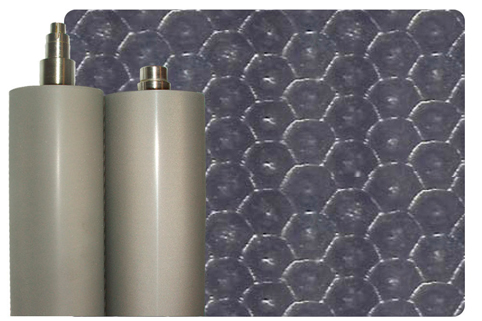 We manufacture and refurbishment Anilox cylinders for any flexographic printer on the market. The latest generation laser system allows engraving from 20 to 800 lines per centimeter, and volumes from 1 to 80 cm3 / m2. This precision allows to obtain a constant quality, ensuring high definition, minimum dot gain, without spitting problems and with a great intensity of color.
EBO
Due to the larger ink deposit of this anilox, it is possible to cover a completely opaque white coat without changing the printing speed.
TAD
TAD recording for four colours process HD bring high dot definition without sacrificing colour intensity.
ASUV
Solution to eliminate ink splatter in printing (spitting) especially with UV inks.
EPT
With an EPT anilox we can solve in only one plate and the same machine difficult jobs like combine screens and pantone colours.
CEA
Hexagonal 60º recording. The versatile flexo anilox for the widest range of lines and volume.
VARN
For varnish application in flexo label printers or offset varnish towers.
TACT
To achieve special finishes with varnishes and inks. Touch effects such as relief, rough, sand, soft and others.
For the printing of ultraviolet (UV) cured inks and coatings we have different types of engravings, designed to obtain the best printing results on narrow web printers used for the manufacture of labels and shrink sleeve. These recordings include the rollers for applying acrylic lacquers or UV on offset varnish towers.
Our professional team provides the necessary advice to determine which is the best Ibeslab anilox recording based on the customer application and their requirements. Even providing printed samples if possible.
As digital plate, high pigmentation inks or plate monting tape have evolved, the new anilox engravings allow improving print quality while reducing ink consumption, low-line specifications are becoming obsolete and high volumes of ink, except for special applications.
Contact us
If you want us to contact you or have any questions,
we will be happy to assist you.